SonicWall next-generation firewalls give you the network security, control and visibility your organization needs to innovate and grow quickly. Our award-winning hardware and virtual firewalls integrate tightly with a broad range of products, services and technologies to create a complete high-performance security solution that scales to fit your needs.
Next Generation Firewalls
Block more attacks with Real-Time Deep Memory Inspection (RTDMI) & Reassembly-Free Deep Packet Inspection (RFDPI) technologies
Prevent advanced threats with cloud-based and on-box threat prevention featuring multi-engine sandboxing, anti-malware, intrusion prevention, web filtering and more
Decrypt and inspect TLS/SSL and SSH traffic in real time
Gain faster performance through a high-speed multi-core hardware architecture
Add high-speed wireless using the built-in wireless controller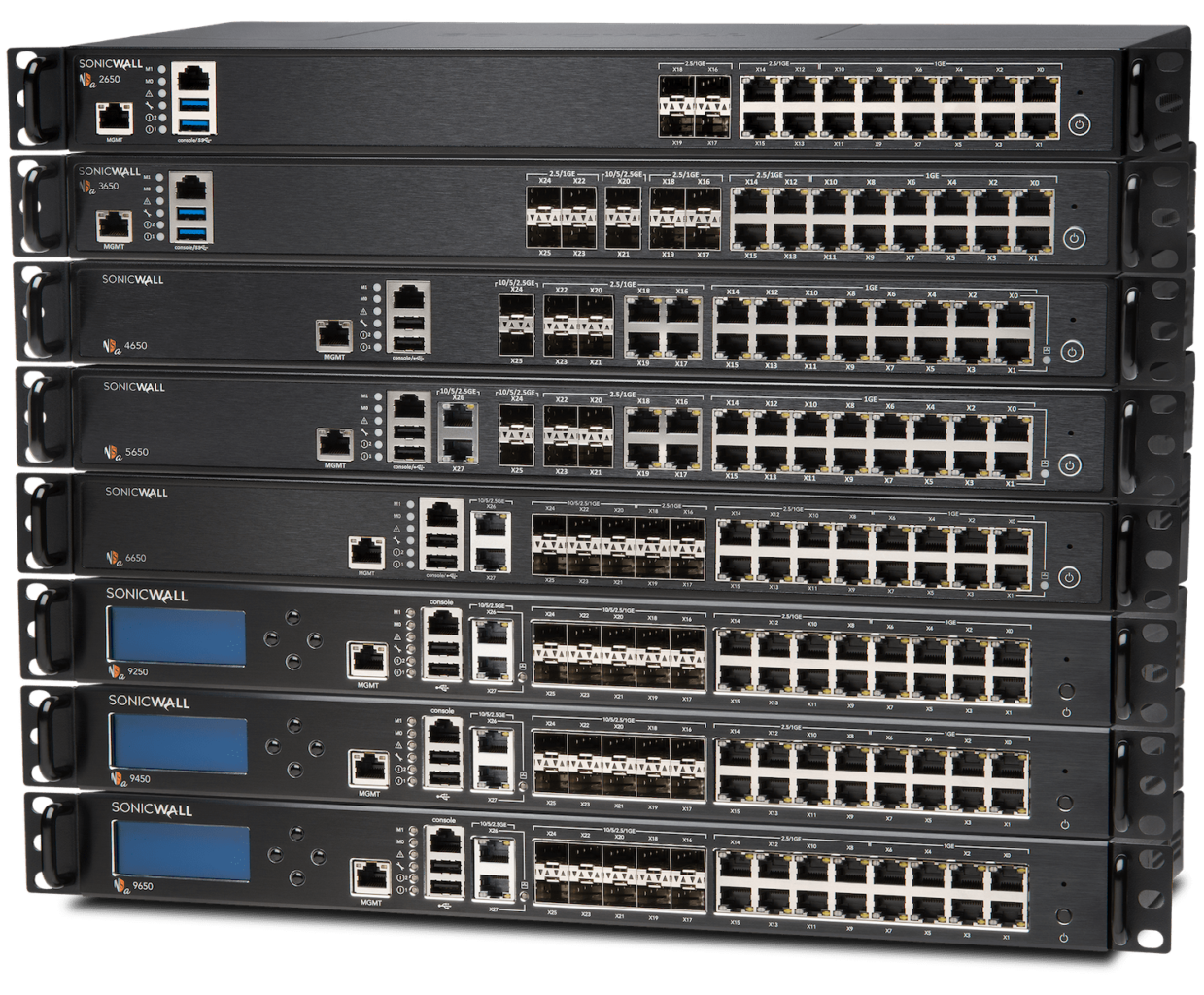 Eliminate breaches for public, private and hybrid cloud environments
Defend against cross-virtual-machine attacks and side-channel attacks
Deploy common network-based intrusion, application and protocol protection
Eliminate unauthorized access to protected virtual data stores
Prevent service disruptions of virtual ecosystems
Wireless Network Security
Achieve the performance benefits of 802.11ac Wave 2
Enhance capacity with 4×4 MU-MIMO
Add multi-gigabit wireless throughput using the 2.5-GbE port
Utilize three radios, including a dedicated security radio
Inspect all wireless traffic with deep packet inspection
Incorporate three radios, including dedicated security radio
Firewall Security Services
Advanced Gateway Security Suite (AGSS) – Utilize a suite of full security services for SonicWall firewalls
Gateway Security Services – Get real-time protection with gateway anti-virus, anti-spyware, intrusion prevention and application intelligence and control
Content Filtering Services – Manage access to inappropriate, unproductive, and even illegal and malicious web content
Comprehensive Anti-Spam Service (CASS) – Remove junk email at the gateway with one-click activation
Capture Advanced Threat Protection (ATP) – Stop unknown zero-day attacks at the gateway with automated remediation using cloud-based multi-engine sandboxing
WAN Acceleration
Achieve LAN-like application performance over the WAN
Scan for intrusions and malware
Cut down on duplicate information and reduce latency through data de-duplication, byte caching and file caching
Improve browser response times with HTTP (web) caching
Decrease latency and chattiness through protocol optimization
Contact us for more information about SonicWall and Palo Alto Firewalls and how your business my be at risk.
Need help with your Firewall Solution?
In this contact us form you can request information to start the discussion about your needs.