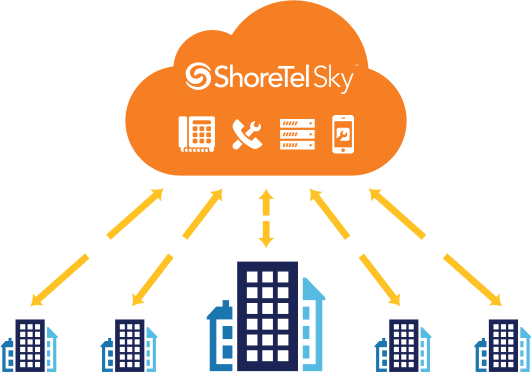 Shortel Sky
Few companies have the in-house resources to effectively manage and maintain traditional business phone solutions and PBX. This is why more businesses are turning to cloud-based phone systems such as ShoreTel Sky. We love ShoreTel Sky VOIP phone systems; that's why we use it in our office.
ShoreTel Sky is the only all-in-one cloud business phone solution
ShoreTel Sky helps you do more, in less time. It's an arsenal of tools that makes it easy to share, chat, show and connect.  Better communication, better teamwork, better results means better business. Just another reason why you'll love ShoreTel Sky.
The phones themselves are an exceptional user experience. All-in-one unified communications and collaboration revolutionizes the way you work:
VoIP call control, mobility apps, instant messaging, audio and web conferencing, video calling and online meetings included.
One screen for everything—the ultra-sleek, next-gem ShoreTel Connect app. 
Smart features like Join button, event wizard, agenda timer, contacts timeline, and conference call-out do your work for you.
Share the ShoreTel Connect experience and online meetings with any contact—automatically.
CRM and Business Process Integrations
Put more power behind every customer touch point:
Maximize your payback from popular business process apps
Embed calling features directly into Saleforce®, ACT!®, MS Dynamics® and other apps for faster performance
Integrated call and customer histories are the foundation of business insights and trends
Shortel Sky is a great product!
In this contact us form you can request information to start our discussion about Shortel Sky.